Charity Sleigh raises £768 for Christmas lights
News 12th December 2019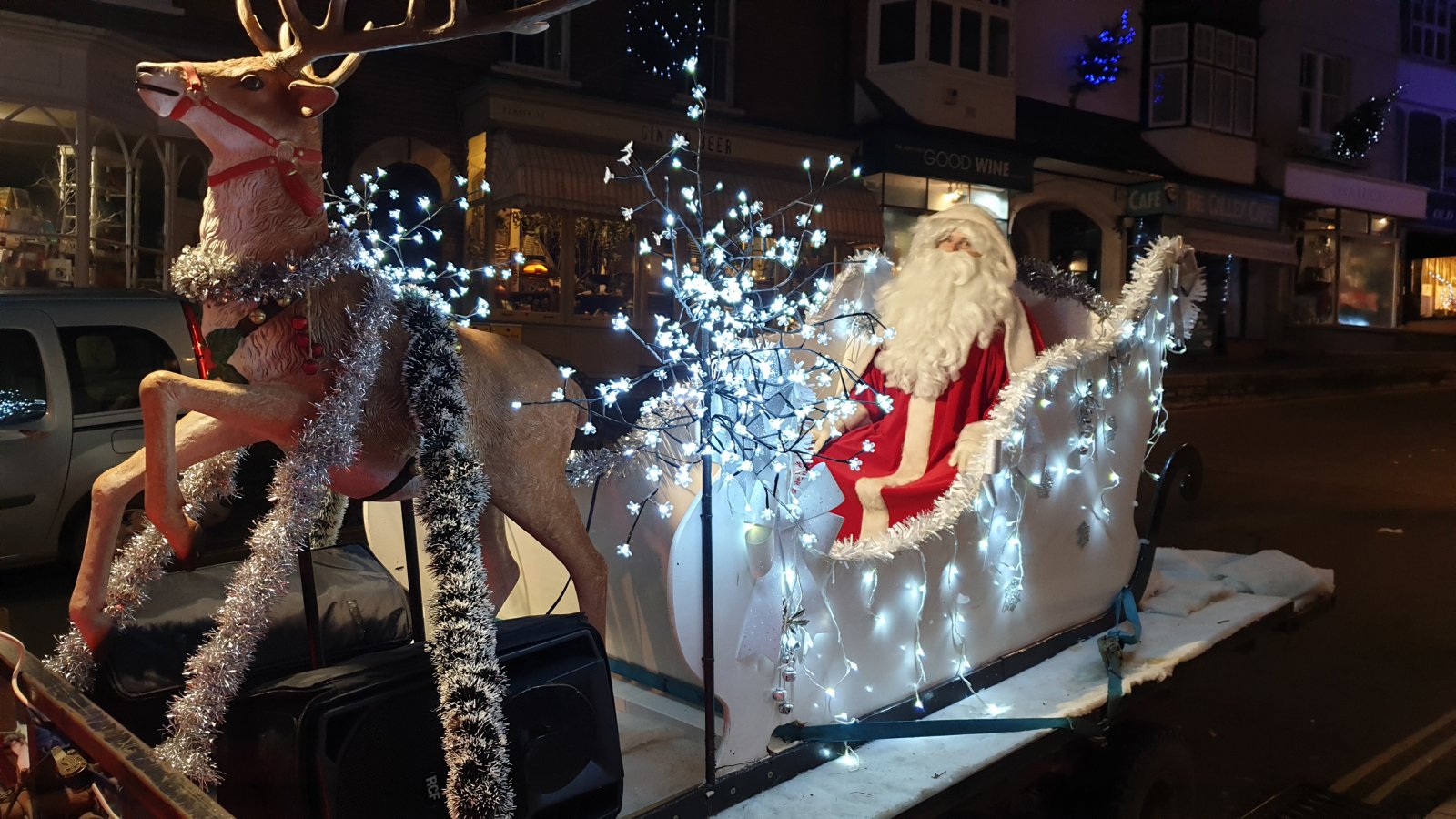 Santa on the Charity sleigh in Broad Street, Lyme Regis
On the evening of Monday 9th and Tuesday 10th December, Santa and his team of helpers toured the streets of Lyme Regis collecting a magnificent £768 for the Lyme Regis Christmas Lights Fund.
With Christmas music blaring out, illuminated with festive lights with a snow machine on board, the annual Charity Sleigh organised by Sarah and Neville Causley brings festive cheer to local children while raising money for good causes.
On behalf of the Lyme Regis Lights Committee, Rob James commented: "We are extremely grateful to Sarah and Neville Causley, Santa and his helpers and the generous people of Lyme Regis for raising a fantastic £768 which will to go towards next year's Christmas lights display".
Over the years the Charity Sleigh has raised thousands of pounds which has helped many worthwhile causes in the local community.
Organiser Neville Causley commented: "The weather was perfect on Monday, but Tuesday was very wet, in fact probably one of the wettest ever nights, but spirits were high as usual and there was plenty of dancing in the streets, and people having a good time.
I am very grateful to the Lyme Regis Carnival committee for their continued support of the sleigh, who once again have kindly covered the cost of the insurance, which is a big cost to us. I would like to personally thank the following people for their help and support, as without these generous people, we would not be able to take the sleigh out: Joe Mew for the use of the towing vehicle; Shane Curral for the use of the trailer; Sparkbrights for the loan of the music system; Fowler Plant Hire for the loan of the generator; The Leeming Family for storage of the sleigh, John and Sylvia Rickard for allowing us to take over their driveway for the past week, and finally of course to my family and Santa's little helpers."
This is the 18th year the Causley family have taken the sleigh out and they have plans to build a new one which includes a roof in time for next year's event. If anyone would like to help with sponsorship towards the cost of materials or help with building it, please contact Neville Causley on 01297 642011.
Charity santa sleigh